All commercial cooking establishments in New York City are now required by law to have an operational grease trap for their food preparation activity. Proper maintenance and disposal of your grease trap is essential to the sanitary operation of your kitchen along with staying compliant with local and state regulations. Above all, our environment is kept clean and safe.
Click this link to view NYC DEP's Guidelines & Enforcing Regulations for Preventing Grease Discharges
What Is Grease?
Grease is an organic by-product of food preparation activity and is found in forms such as:
Meat Fats
Soap Products
Food Scraps
Cooking Oils
Dairy Products
Baking Goods
What Problems Are Caused By Grease?
Without your active attention and proper maintenance, unexpected disruptions and business down-time will eventually occur from:
Odors
Messy Cleanup
Overflows
Backups
Exposure to Bacteria
Food Contamination
What Is A Grease Trap?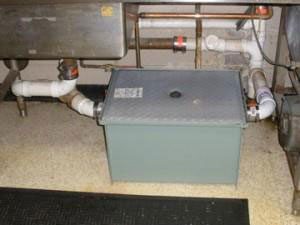 A grease trap is a device designed to capture and prevent grease from entering the plumbing system. These units vary in size and are usually placed in the kitchen area. A grease trap is a box that has a series of internal baffles. Water is allowed to pass through the trap while keeping grease and sludge contained. Like any "filtering system", the contained grease must be periodically removed.
How Does PowerFlo Clean Grease Traps?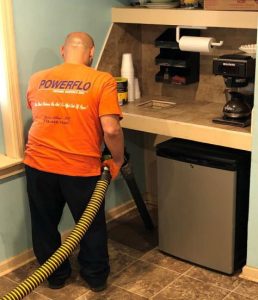 A qualified technician in a specially equipped vacuum truck will arrive on site and check in with management. Our technician will then prepare the work area and discuss a short pre-work checklist. Your grease trap will then be pumped, scraped and washed. The grease will be hauled off site and disposed of in accordance with environmental regulations at a licensed facility. Before leaving, our technician will offer the manager an opportunity to inspect our completed work.
Documentation
PowerFlo will provide all the necessary information and documentation, including maintenance dates required by local government agencies as proof of your compliance with local laws.
Benefits of PowerFlo Service Agreements
24 / 7 Customer Support
Technicians and office staff are always on-call and available.
Priority Service Response
Faster response times.
Discounted Pricing
Additional 10% discount on sewer and drain cleaning services.
On Your Schedule
Eliminate disruptions by choosing the days and times that work best for you.
Multiple Service Plans
We will help you customize a plan to your specific needs.
Office Resources
Relax. We handle all record keeping and document control.